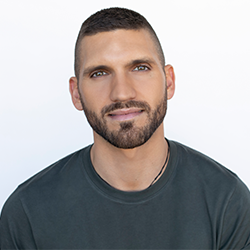 Justin Tindall (he/they)
Justin began his professional career in 2009 as an employment specialist helping young people in Nicaragua before working as an educational specialist at the DREAM Project, a nonprofit school in the Dominican Republic. In 2012, Justin was recruited by Teach For America (TFA) and became a bilingual (English-Spanish) teacher in an elementary school in San Antonio, Texas.
With the help of an It Gets Better video shared by a group at his graduate alma mater, Justin came out that same year and has since built a career around empowering LGBTQ+ youth. He began working for the It Gets Better Project in 2014 where he has expanded the organization's Global Affiliate Network to 20 countries and created It Gets Better EDU, the arm of the organization that helps facilitate the introduction of LGBTQ+ stories into educational settings.
Justin has a Master's of Public Health (MPH) in Global Health Promotion and a Bachelor's degree in International Area Studies (Latin America) with a minor in Political Science.