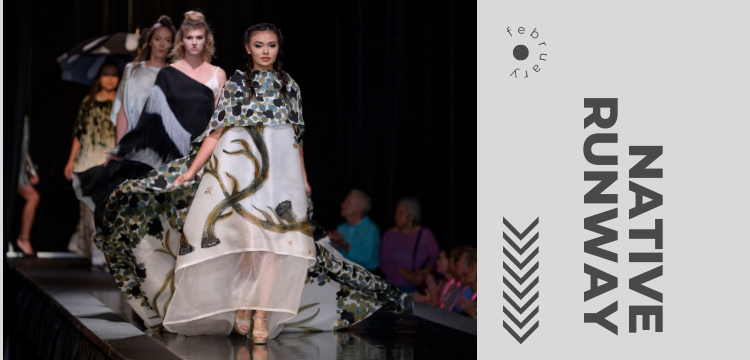 NATIVE RUNWAY
Indigenous Fashion from North America Guided Tour
Part of Das Nordamerika Filmfestival
---
Location: Rotebühlplatz 28, 70173 Stuttgart
Entrance: Free
Language: English 
Registration: Not necessary
---
Join us for a 45-minute guided tour of the exhibit "Native Runway"!
In 2014, the Southwestern Association for Indian Arts (SWAIA) held the first official Haute Couture Fashion Show, organized by Amber-Dawn Bear Robe (Siksika Nation), as part of their program for the annual Santa Fe Indian Market, the largest and most prestigious art fair for contemporary Indigenous artists, established in 1922. The fashion show was first produced as a free event at Cathedral Park in Santa Fe, New Mexico, where only four designers showed their work and the models walked down the walkway of the park. Under the leadership of Bear Robe, it has grown into one of the most anticipated events of the Market, with over 1,000 people in the audience and more than 100 models wearing collections from up to a dozen Native American designers. Bear Robe explains that "The show highlights Indigenous fashion designers who are influenced from their cultural heritage to create clothing, jewelry, and accessories that embody the essence of ancestral memory while creating innovative designs representing the now."
This photo exhibition, curated by Erika Knecht, introduces award-winning and internationally recognized Indigenous fashion designers from the United States and Canada.
---
In cooperation with: Das Nordamerika Filmfestival, Eberhard Karls Universität Tübingen, Volkshochschule Stuttgart, d.a.i. Tübingen
Supported by: LBBW Stiftung, die Universitätsstadt Tübingen, Regierungspräsidium Tübingen