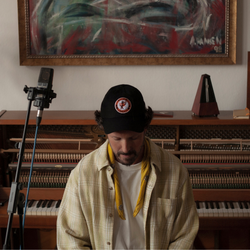 Max Herre
Max Herre is an award-winning German rapper, singer-songwriter, and music producer.
Born and raised in Stuttgart, he became a key figure of German Hip-Hop in the 1990s together with his band Freundeskreis and the artist collective Kolchose. Freundeskreis and the ensuing mega group FK-Allstars are known for their style of conscious rap and released several albums, including Die Quadratur des Kreises (1997) and Esperanto (1999), to great critical acclaim and commercial success.
Since 2001, Max Herre has focused on producing other artists and pursuing a solo career; his most recent album ATHEN came out in 2019. In 2022, Max Herre, together with fellow producer Dexter, compiled a double album with music from the 1970s on occasion of the 75th anniversary of legendary GDR label AMIGA; this compilation also includes two new titles by Herre based on AMIGA songs.
Herre continues to use his platform to raise awareness for humanitarian and political causes that he cares about.
Photo Credit: Gabriela Alatorre