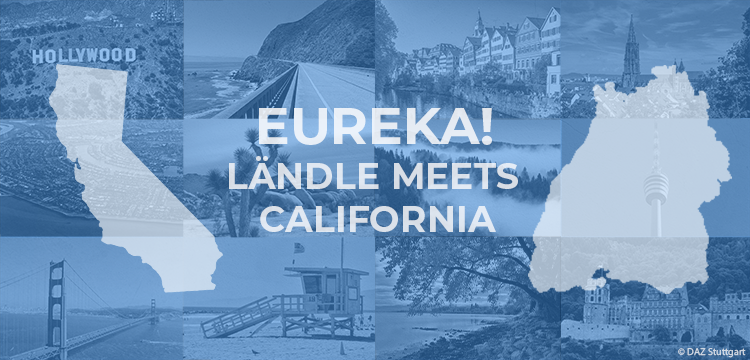 Special
15.12. – 31.07.2021
Eureka! Ländle Meets California
Veranstaltungsreihe/Event Series
---
Eureka! Ländle Meets California is a digital event series on the sister state partnership between Baden-Württemberg and California.
In monthly events, we will explore what our two states have in common, what we can learn from each other and how we can work together more closely. American and German experts on both sides of the Atlantic will discuss topics such as environment, higher education, tech startups, national parks, migration, queer culture, and the film industry. We want to initiate conversations that create new ideas and networking opportunities to further strengthen the partnership between California and Baden-Württemberg going forward.
The series is organized by the DAZ Stuttgart in cooperation with the German-American Institutes in Freiburg, Heidelberg, and Tübingen, and with generous support of the State Ministry of Baden-Württemberg.
The sister state agreement was signed by Govenor Jerry Brown and Minister President Winfried Kretschmann at a global climate summit in San Francisco in 2018.
---
Veranstaltungen/Events
Dienstag, 15.12.20, 20.00 Uhr
States of Sun and Stars - Why Inspiration Matters
with Max Herre and other guests
DAZ Stuttgart
Donnerstag, 14.01.21, 19.15 Uhr
Under2: A Story of California and Baden-Württemberg in Global Climate Leadership
DAI Tübingen
Dienstag, 23.02.21, 20.00 Uhr
Higher Education: Strategies for Innovation at Stanford and Heidelberg University
DAI Heidelberg
Donnerstag, 25.03.21, 19.00 Uhr
Silicon Valley Meets Neckar Valley
DAZ Stuttgart
Donnerstag, 22.04.21, 19.00 Uhr
Earth Day: Black Forest Meets Yosemite
Carl-Schurz-Haus Freiburg
Dienstag, 18.05.21, 19.00 Uhr
Empowerment Through Participation: Advancing Opportunities for Immigrants and Refugees
DAZ Stuttgart
Mittwoch, 23.06.21, 19.00 Uhr
#Love is Love! LGBTQ+ Youth in California and Baden-Württemberg
DAZ Stuttgart
Mittwoch, 21.07.21, 19.00 Uhr
And … Action! Film, Fame, and Female Voices
DAZ Stuttgart