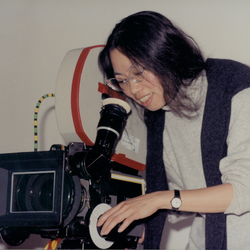 Trinh T. Minh-ha
Born in Hanoi and raised in Saigon, Trinh T. Minh-ha emigrated to the United States in 1970 during the Vietnam War. She lives in the San Francisco Bay Area.
Trinh is considered one of the most important representatives of independent film worldwide. Since the early 1980s, she has been developing a theoretical, filmic, and poetic oeuvre which is considered foundational for postcolonial and feminist approaches within art and research contexts, and which has significantly shifted the boundaries between documentation and fiction.
The nine films made by Trinh have been recognized in over sixty retrospectives at film festivals and in art institutions throughout the world. Trinh has received numerous prizes and awards. Her most recent film, What About China?, was the 2022 recipient of the New Vision: CPH Dox
Award, the Prix Bartók of the Jean Rouch Film festival and the prestigious Persistence of Vision Award of the San Francisco International Film Festival.
Portrait by Trinh T. Minh-ha